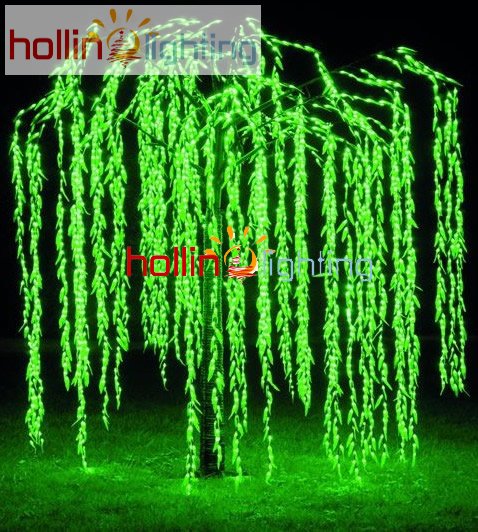 LED willow tree HL-WLT009B 3.5m 3450LEDs
Voltage:24v,110v,220v,230v
Height:3.5m
Diameter:2m
Color:Red,Green,Blue,White,Yellow,Pink
QTY Of LEDS:3450LEDs
Rated Lifetime:More Than 5,0000
Working Temp:-30C To 60C
Certification:CE,Rohs,etc..
Warranty:1 Years
LED willow tree HL-WLT009B 3.5m 3450LEDs

Hollin Lighting Electric Co.'s (www.hollinlighting.com) LED landscape tree lights is also known as LED willow tree or LED tree lights, its price is decided largely by its LEDs quality and quantity, the wires quality, the blossoms and its trunks' quality and the color, etc...
The LED light-emitting diodes are with very low power consumption, high brightness and long life which are very safe and environmental protection. The blossoms/petals and leaves are PVC material, crystal clear or with same color as its LEDs, the whole tree will resist the rain/sun/bad weather well.
Moreover, these branches of the trees can be 360 degrees bending. You can design the whole tree's shape by yourself!!! And they are easy to be assembled and disassembled as well. If you'd like to stock them after holiday, it is rather convenient to do so.
Add Hollin Lighting Electric Co.'s LED trees to your garden!!! Be different with your own unique styling. Spice up the atmosphere at your venue. Our high-quality LED Trees are different and amazing at the same time and will be perfect for any of your event or location.